O YAMA O | LIVE PERFORMANCE
Friday 12 April 2019, 7pm
O YAMA O – Rie Nakajima and Aller Park Studios co-founder Keiko Yamamoto – make a special live performance in the studios.
Everyone is welcome, admission is free but donations are helpful.
Join us for Japanese canapés and cocktails from 6.30pm. No booking required – there will be standing room and seating on the floor.
O YAMA O explores a domestic and democratic quality of everyday life, born of associations with Japanese folk music and a folding of myth, tradition, and routine; the non-spectacular and the sublime.
Keiko and Rie formed O YAMA O in 2014 and have since performed at venues and festivals including noshowspace, Ikon Gallery, Wysing Arts Centre, Supernormal Festival, Borealis Festival, Mayhem, allEars Festival and, most recently, BBC Late Junction Festival and Art Basel Hong Kong Rie's performance uses found and kinetic objects – modest items such as rice bowls, toys, clockwork, balloons and small motors become instruments in a 'micro orchestra', creating a layered and immersive atmosphere. Keiko alternatively floats and charges through this with body and voice; chanting, incanting, thundering, whispering, stamping on the floor.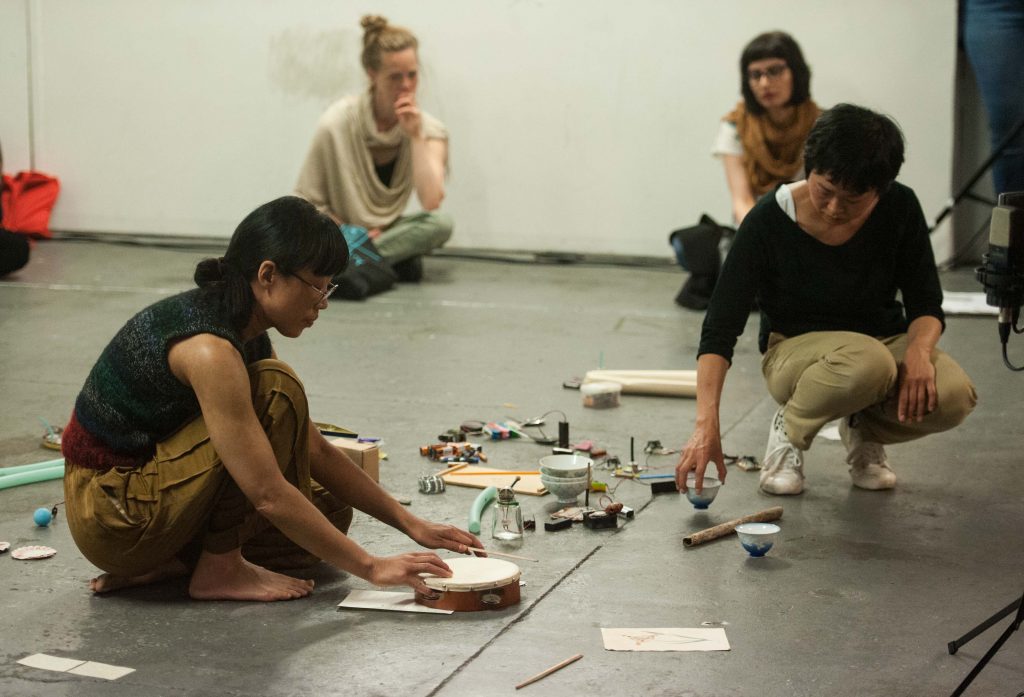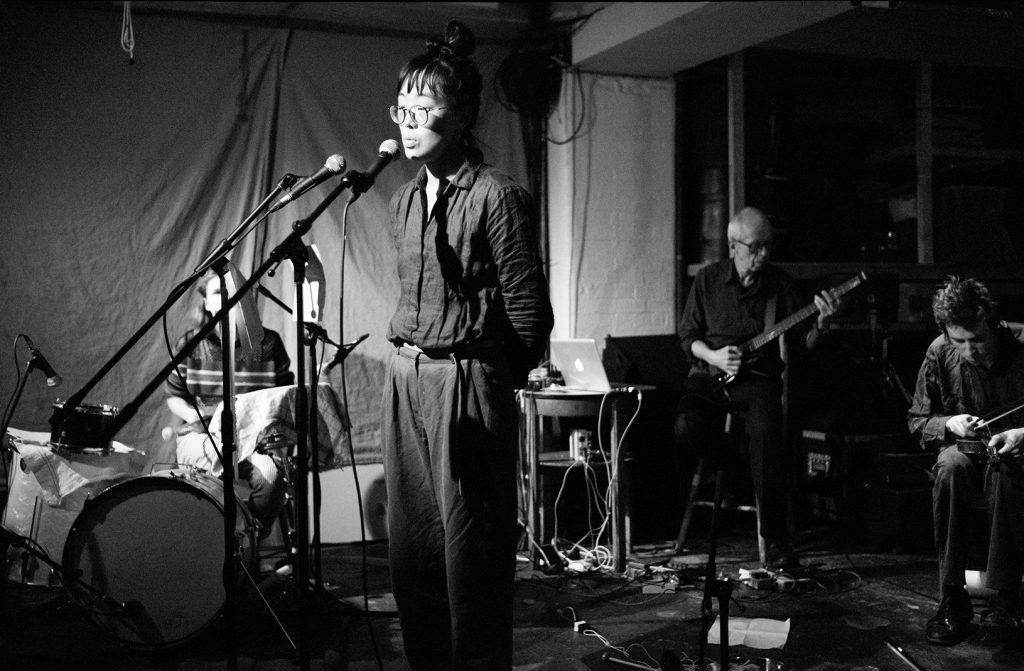 ______________________________________________________________________________
______________________________________________________________________________
Aller Park, Park Road, Dartington Hall Estate TQ9 6EL
There is a car park on the West side of the building – turn right off Park Road. Parking is free in all car parks on the estate after 6pm. For more information about visiting the estate, directions and maps, visit the Dartington website here.
Unfortunately, there isn't currently an accessible wheelchair entrance to the Aller Park building – there are four steps from the car park to the entrance hall.
Live events are recorded whenever possible and shared online. Visit our LINKS page to listen to an audio recording of this event, and for a link to O YAMA O's 2018 album.
______________________________________________________________________________
Images top to bottom: O Yama O perform at Late Junction Festival, EartH, 2019, photos: Fabio Lugaro. O YAMA O performance at Flatpack Festival, 2018, photo Katja Ogrin
Video: O YAMA O performs at noshowspace, London, 2014, recorded by Daniel Jackson