Gretchen Egolf | Chekhov performance workshop
Saturday 12 October, 10am – 4pm
Aller Park Studios welcomes Gretchen Egolf, co-director of the Chekhov Collective UK, to Dartington. As part of a special weekend of events, Gretchen will lead an all-day workshop exploring Michael Chekhov's embodied performance practice in relation to cross-disciplinary arts practice.
Open to everyone – to those with experience of performance as actors, dancers and artists, and to those who are new to physical performance.
Michael Chekhov (1891-1955) was an actor at the Moscow Art Theatre in Russia during the years Stanislavsky was developing his system of actor-training. Forced into exile under the Stalin regime, he worked in Europe before he was invited to create the Chekhov Theatre Studio at Dartington in the building that now houses the Barn Cinema. He lived and worked on the estate between 1936 and 1939, establishing a company of actors and formulating his unique form of actor training, privileging the visual imagination, psychophysical exercises and ensemble, collective creation.
He taught not only with words but with every nerve and muscle of his body – every gesture he made was significant and revealing […] his teaching was serious and profound. He had developed a method which he hoped would ring out the latent powers of his students. 'An actor has three instruments' he used to say, 'his body his voice and his imagination'
Dorothy Elmhirst
In the 1940s and 50s Chekhov continued his work in the US – in Connecticut, New York and Los Angeles – where he further developed his teaching of the 'Psychological Gesture', a concept derived from Russian Symbolism. His students included Marilyn Monroe and Clint Eastwood and his book On the Technique of Acting (later abridged and published as To The Actor) has been a foundational text for generations of actors.

Gretchen Egolf is an actor, director, teacher, and co-director of The Chekhov Collective UK. Gretchen trained at The Julliard School and has performed in theatre, film and television in New York, Los Angeles and London. She has taught in London at the Royal Central School of Speech and Drama, RADA, LAMDA, ALRA, and Brunel University, as well as the Actors Centre and independent workshops.
The workshop will take place in the Hex, Park Road, Dartington Hall Estate, a building just across the road from Aller Park Studios.
£25, places are limited so advance booking is essential. This workshop is now sold out.
Participants will engage in simple physical movement so are asked to wear comfortable clothing.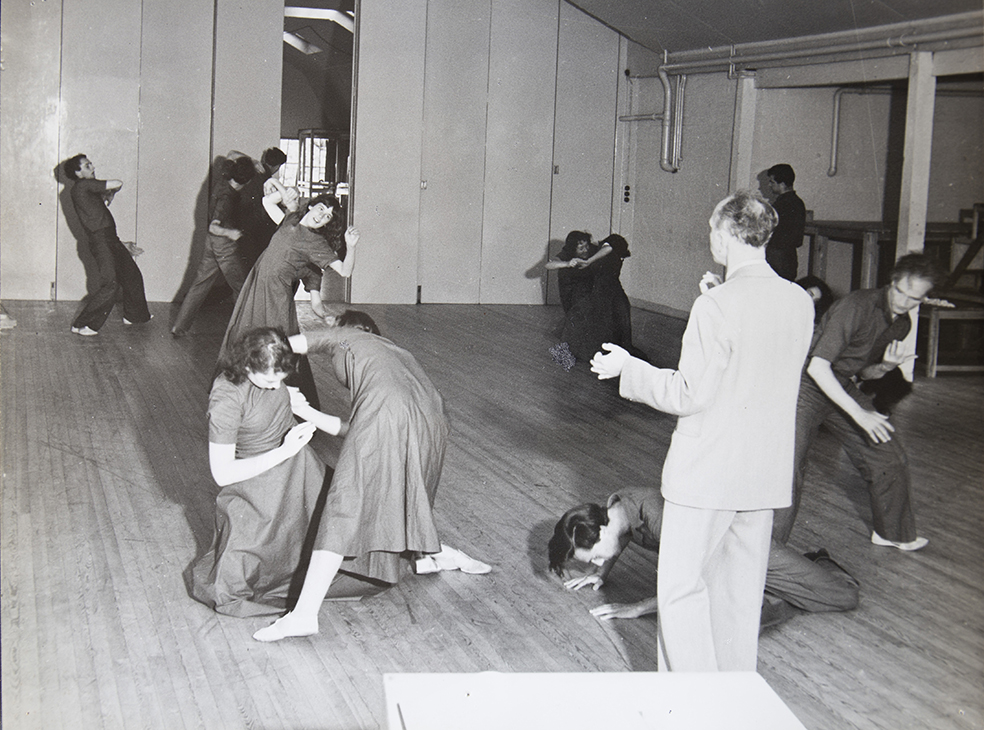 ______________________________________________________________________________
This workshop is presented as part of Embodiment and Performance, a weekend of activities with Gretchen and artist Adam Chodzko that considers physical performance and the development of character in body and voice. A performance workshop, an artist talk and a cinema screening draw on the legacy of actor, director and teacher Michael Chekhov.
Find out about Gretchen Egolf's work and read more about the Chekhov Theatre Studio at Dartington on our LINKS page.
See our upcoming and past events at a glance on our PROGRAMME page.
______________________________________________________________________________
The Hex Studio, Park Road, Dartington Hall Estate, TQ9 6EL
There is a car park on Park Road. Parking meters charge on a sliding scale starting at £1 for an hour and £6 for all day. Parking is free in all car parks on the estate after 6pm.
For more information about visiting the estate, directions and maps, visit the Dartington website here.
______________________________________________________________________________
Images:
Participants in a Michael Chekhov Masterclass, courtesy Gretchen Egolf
Chekhov Theatre Studio, 'wrestling without muscles', Dartington, 1938 © Dartington Hall Trust